Fearless Teenagers Roaming the Streets
Teenagers may well be on many of our minds at present, what with the big exams underway for some and the long summer holidays started for others; so we thought we'd give you another brief insight into teenagers from Owen Connolly's book for fathers entitled "Standing on the Shoulders of Giants". This post is related to a previous post from April that considered the fearlessness or assertiveness that parents are hoping to instil in their children. You can read that post on our blog here.
ARE THE YOUNG PEOPLE WE SEE AIMLESSLY/AGGRESSIVELY ROAMING THE STREETS DEMONSTRATING THE KIND OF ASSERTIVE "FEARLESSNESS" THAT YOU WERE PREVIOUSLY EXTOLLING IN TODAY'S CHILDREN?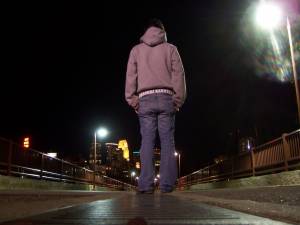 We must take time to consider a type of fearlessness that we see in certain young people today, which is very different than the "can-do" fearlessness we want to inspire in our children. Take a young man who has not been heard or listened to, one who has had difficulties in school that were not appropriately understood – difficulties that may have been caused by having an alcoholic or drug-addicted mother or father. He leaves school – or is forced out – and is now out on the streets trying to make something for himself. He's very limited intellectually because his academic facility was taken away from him – due to his lack of concentration or other problems – and he's a developing young man so he's physically like a feral cat or anything that's wild.  And yet he has to survive – and remember: one of the reasons he's alive today is because there's enough genetic makeup in him that enabled his people to survive in the first place. So now, as he tries to survive in the world with very limited resources, he may fearlessly use means that the majority of the population would consider dangerous or wrong. He may take easier ways out since he's more subject to being easily led, but he needs to survive, and young men and women like him will do what they have to in order to survive and the ways that they do so may be very different from what most would consider normal.
Many of these guys are really super kids and very sensitive, but they can't afford to let that aspect of themselves be visible in the struggle to survive. To deal with that struggle, they entertain a kind of fearlessness or fierceness that helps them get on in the world. But that's just a survival instinct and is very different from the assertiveness we're trying to encourage in our children.