Rheumatoid Foot Care
The foot is often thought of as the Cinderella of the Rheumatoid world. But Angela Ferris, the Centre's podiatrist, is looking to change that perception with today's #TherapistsThoughts blog post. If you, or someone you know, has rheumatoid arthritis, please do read and share this article. Here at the Centre we are very much aware of the link between mental health and physical well-being, and encourage all our clients to pay attention to both aspects of their lives.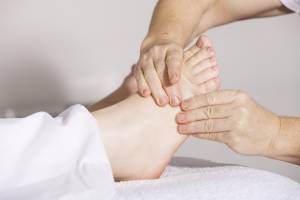 Approximately 1 in 5 adults in Ireland have some form of arthritis. This means that around 950,600 Irish people have arthritis (based on the 2016 census). Arthritis is a condition that affects people of all ages, even children. 18% of arthritis patients are less than 55 years old.
Rheumatoid arthritis (RA) is an autoimmune disease in which the body's immune system attacks the joints. This creates inflammation that causes the tissue that lines the inside of joints to thicken, resulting in swelling and pain in and around the joints. (Arthritis.org)
Rheumatoid is the most common type of inflammatory arthritis. Up to 90% of people with this condition will report associated foot problems (ArthritisIreland.ie)
Foot problems in the musculoskeletal community are often neglected: "… problems of the foot and ankle are the Cinderella of the rheumatoid world." (Helliwell et al., 2006.)
The foot issues relating to rheumatoid arthritis vary widely. A person can experience a "flare-up" of foot joints, where toe joints can become swollen, inflamed and painful. This can have a negative effect on foot joint stability, and therefore overall mobility. Foot deformities are common in patients with rheumatoid arthritis, as are nodules on the feet. A change in foot shape leads to altered biomechanics and pressure that affects the foot in a different way. This may result in callus and corn formation, which in turn may develop into areas of ulceration if not treated appropriately. Rheumatoid, and some medications used to treat rheumatoid, can also influence the skin and underlying tissues, making them more vulnerable to infection.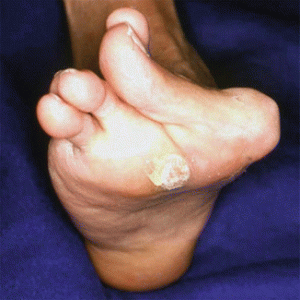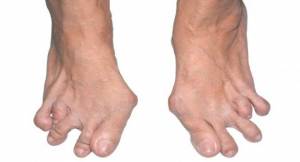 Above left is a hallux abducto valgus ("bunion") and corresponding callus – a common foot deformity seen in patients with rheumatoid arthritis.
Above right is a presentation of "daylight's sign" – splaying of the toes (2nd and 3rd) due to rheumatic swelling in the joints.
A podiatrist's role is to identify, diagnose and treat disorders, diseases and deformities of the feet and legs, and to implement appropriate and timely care. The goal of the podiatry element of rheumatology care is to reduce foot-related pain and maintain mobility, while protecting skin and other tissues from damage. Your podiatrist can decide if you require supportive or cushioning insoles/orthoses that will aid your foot function and reduce the risk of developing joint deformity. (National Rheumatoid Arthritis Society.)
A podiatrist will carry out a footwear assessment and see if any improvements or recommendations can be made. It may be that bespoke footwear (footwear made to fit the foot) are a requirement. A podiatrist is also a wound care specialist in, and an expert in the management of, wounds/ulcers that can occur on the foot due to rheumatoid arthritis.
If you have concerns about rheumatoid arthritis and your feet, please do not hesitate to contact Angela at the Connolly Counselling Centre and make an appointment.
Don't neglect your feet – you only have one pair!