Encouraging Men to Take Their Proper Place
Well, time has simply flown by – it is hard to believe the junior certificate exams are over and the leaving certificate finishes tomorrow. We hope that it has all gone well for our young people, and that the exam stress buster tips posted on our blog were helpful. So as we move the spotlight off teenagers for now, in today's #ThursdayThoughts post we return to a common theme in our series: Men – their roles in society and their importance in the lives of their families. As you may be aware if you have been following our blog, Owen Connolly wrote a book for fathers (and men in general) that we have been using as a basis for many of our blog posts over the last year. Today's excerpt is from the Introduction and gives some insight into what Owen was hoping to achieve with the book. Enjoy!
ENCOURAGING MEN TO TAKE THEIR PROPER PLACE IN SOCIETY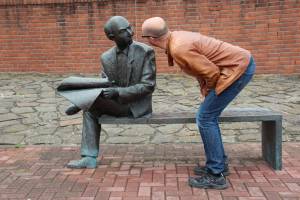 This is the most confused time in history for men. For centuries, men took a position of authority in the home and in the world. Over the past hundred years, however, women have risen to a place of equality by realising how valuable they are and by using their unique gifts to make the world a better place. One of the results of this is that men no longer understand their role in society. They feel lost because they are no longer in charge and because they feel bad about the ways in which they misused the authority that they had. It is time for men to do what the women did – to examine their unique gifts and to use those gifts to enrich the lives of their families and the society around them.
At the moment, men don't understand themselves or realise how valuable they are. Go into any shop and you'll find racks and racks of magazines that say what women need and what they think and how brilliant they are, but if you go looking at the shelves for anything to do with men, you find nothing that deals with them personally – just car magazines, DIY magazines, sports magazines, and magazines designed to titillate, none of which promote a man's value or worth. In my book, "Standing on the Shoulders of Giants", by answering some frequently asked questions about being a dad, I hoped to encourage men to look at themselves and to understand their natural gifts. These gifts include, among others, leadership, decision-making, and the ability to "put the shoulder to the wheel."
Many men feel these particular gifts are unacceptable to the women of today's world, but I hope that my book shows them that women still look for these gifts in committed relationships; and that men must accept and use all their gifts in order to bless their families and to make this world a better place. I want each man to see the considerable contribution he has to make to his children, and I want to encourage each man to pass on the qualities and values that will help his children survive whatever's thrown at them. After all, it was by our ancestors using their gifts that we have been able to survive as a species in the first place!