Diabetic Foot Care
We are fortunate to have Angela Ferris recently join our team as a podiatrist to look after our clients' feet.
In today's #ThursdayThoughts blog post, Angela explains about diabetic foot care.
Diabetes can cause nerve damage and blood vessel damage in the feet. This can mean there is reduced sensation (feeling) in the foot. This may cause skin breakdown, which can develop into non-healing wounds. This may even result in limb amputation. Throughout the world, it is estimated that every 30 seconds one leg is amputated due to diabetes. (Yazdanpanah et al., 2015).
Here are some tips for looking after your feet (hse.ie 2018):
Check your feet daily: Check the soles, heels and in between the toes. If needed, ask someone for help or use a mirror.
Do not walk barefoot: walking barefoot could cause you to step on something sharp. Even the smallest cut may cause a problem. Have your shoes beside your bed to start a habit.
Moisturise: Diabetes can cause dry skin, which may result in fissuring or cracking. Be careful not to put moisturiser in between toes as this may cause fungal infection.
Blisters/cuts: Do not burst blisters. Clean cuts by bathing your foot in freshly boiled, cooled water (not hot) and apply an antiseptic cream. Use a sterile dressing and tape (from a pharmacy) to cover.
REMEMBER: Change the dressing and check for healing each day. If not improving, contact your GP, nurse or podiatrist.
DO NOT sit with your legs crossed as this could damage the blood vessels in your legs. This may reduce the blood supply to your leg.
DO NOT use over the counter corn or verruca remedies. Your podiatrist will treat any hard skin or corns on your feet.
NEVER USE hot water bottles.
NEVER USE foot spas.
DO NOT sit too close to fires or radiators.
Example of the progression of a wound on a diabetic foot – New England Journal of Medicine 2015.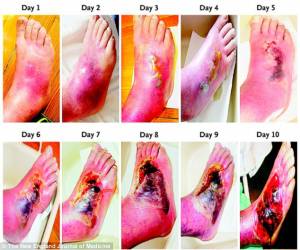 For more tips see and information see: https://www.hse.ie/eng/health/hl/living/diabetes/