Susan Byrne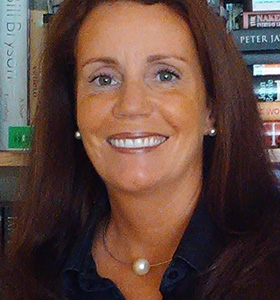 Dr Susan Byrne is the Managing Director and Clinical Supervisor at the Connolly Counselling Centre. She is fully accredited with the Addiction Counsellors of Ireland. She is also a Cognitive Behavioural Therapist and a Couples/Relationship Counsellor.
Susan graduated from Dublin City University with a first class honours degree in Psychology and Philosophy in 2004, and completed her Doctorate in Philosophy of Language, Cognitive Psychology and Embodied Cognition with the National University of Ireland, Maynooth in 2012.
She also holds a Certificate in Counselling Skills, an advanced Certificate in Cognitive Behavioural Therapy, a Certificate in Cognitive Behavioural Therapy for Eating Disorders, a Diploma in Humanities, a Diploma in Addiction Counselling and a Professional Certificate in Couples Counselling.
She is also trained in the implementation of Conflict Resolution and Restorative Practices, Children First Legislation and Child Protection & Welfare issues, and ASSIST Training (Applied Suicide Intervention Skills Training).
Susan offers a confidential and non-judgemental counselling service to both adults and teenagers where thoughts, feelings and experiences can be explored in a safe and supportive space. In particular, Susan has a keen interest in working with young adults and has over 25 years experience working both in the private sector and in community development settings with young people from 15 to 21 years of age. Originating from a professional teaching background, Susan feels she has the experience and insight into some of the difficulties that affect young people.
Susan follows the Code of Ethics as set down by the A.C.I. and promotes professional, ethical and best practice at all times with her clients. She also maintains her accredited membership with the A.C.I. by meeting the required criteria of Continued Professional Development, regular Supervision and Professional Indemnity Insurance. Susan currently holds Garda Vetting by: the Addiction Counsellors of Ireland; The Teaching Council of Ireland; and The Dublin & Dun Laoghaire Education & Training Board. She also implements G.D.P.R. protocols at all times in her practice.
Her therapeutic approach follows the principles of: Embodied Cognition & Cognitive Behavioural Therapy; Person Centred Counselling; Rational Emotive Behaviour Therapy; Motivational Interviewing & The Wheel of Change; Solution Focused Therapy; and Reality Therapy/Choice Theory. However, Susan also draws from an interdisciplinary approach, where appropriate, so treatment plans are always specific to the needs of her client.
Susan currently divides her time between working with Early School Leavers under the auspices of Dublin & Dun Laoghaire Education & Training Board (Teaching Council of Ireland Registration Number: 44390), and running her private practice from the Connolly Counselling Centre, Stillorgan, Co Dublin.
Susan is available for Individual Counselling Sessions, Family Intervention/Crisis Intervention Work and Couples Counselling from the Connolly Counselling Centre. She is also available for Remote Counselling Sessions via Skype or Zoom.
Areas of Expertise:
Chemical Addictions – Alcohol and Drugs (both prescriptive & non-prescriptive)
Behavioural/Process Addictions – Problem Gambling, Pornography, Sex, Internet.
Eating Disorders – Anorexia Nervosa, Bulimia Nervosa, Binge Eating Disorder, Orthorexia Nervosa, and Avoidant/Restrictive Food Intake Disorder
Couples/Relationship Counselling & Family Interventions
Depression
Anxiety
Obsessive Compulsive Disorder (OCD)
Bereavement & Loss
Deliberate Self Harm
Poor Body Image/Body Dysmorphia
Other Information
Susan has presented numerous papers at the Psychological Society of Ireland and British Psychological Society Conferences while undertaking her doctoral degree, along with publishing several chapters from her thesis in both philosophy and psychology journals.
Currently, she is writing a book on Adolescent Mental Health.
Since 2008, Susan has completed over 750 hours of Continued Professional Development and is committed to on going education and training in order to meet the professional standards required in the practice of counselling.
Susan has also completed a series of interviews on Addiction with Spirit Radio in May/June 2021 which can be accessed on the website's blog: www.counsellor.ie/blog