Dana Gonen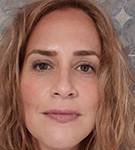 Dana is a qualified Music Therapist.
BA, H.Dip., – Communication and Music Therapy
Accredited member IACAT – The Irish Association of Creative Arts Therapist Ireland.
For over twelve years Dana has successfully worked with children in special need schools. During these years, she gained valuable experience dealing with complex cases and presentations where she had to customise individual therapy programmes for her clients, while collaborating with multi educational teams.
Dana always aims to inspire her clients to realise their full potential and ability for growth and self-fulfilment. Music is Dana's main therapy medium. Musical instruments and other artistic tools are frequently used in her therapy sessions.
Dana's main areas of specialisation are: special needs, autism, selective mutism, learning disabilities, parental guidance, early trauma, trauma and self-esteem. She is currently working with children, adults and adolescents.